Frequently Asked Questions About Window Blinds And Shades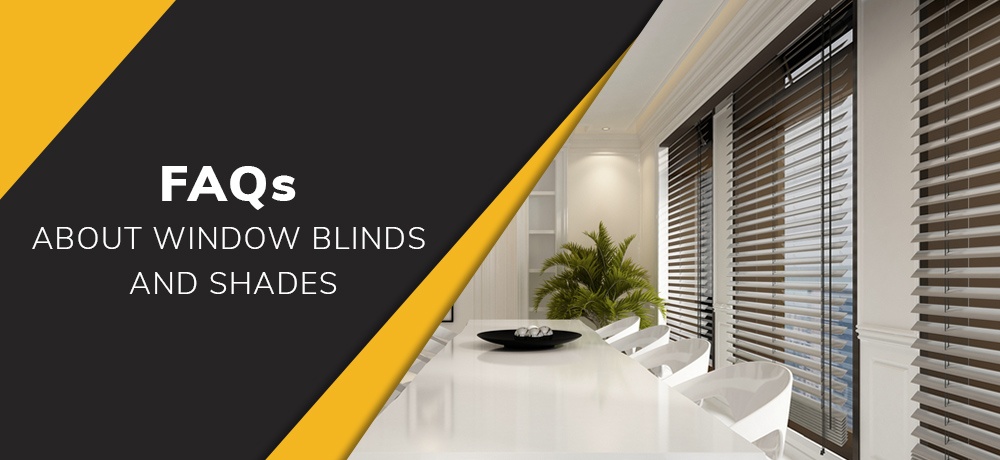 The world of window treatment is vast with all sorts of styles, designs, and mechanisms. Figuring out which draperies and window coverings suit your needs best can leave you with tons of questions. However, the answers to these questions may be difficult to come by. KNS Window Fashions wants to arm you with the most accurate information available to help you improve your windows' functionality, and to do this, we've answered some of the most frequently asked questions about window blinds and shades.
1. There are many suppliers of blinds and shades, and the prices can vary greatly, which should I choose?
Usually, for short-term purchases, a less expensive option may be the answer, for long-term purchases it is wise to choose the more expensive product. However, the best option is to choose a reliable supplier and settle only for blinds and shades that are well worth their quality.
2. Most suppliers warranty their products, is this important?
Most reputable suppliers will offer a limited lifetime warranty, which means that the product is warranted throughout its lifetime for the original purchaser. This warranty may cover only certain parts of the product. All fabric and cord issues may only be covered for a limited time. Besides, warranties only cover the repair or replacement of the product but not the cost to remove, ship, and re-install it.
3. Motorized blinds and shades seem to be gaining popularity, why should I purchase these products?
Child safety appears to be one of the main reasons for the surge in popularity of motorized products. Many manufacturers are taking stringent measures when designing and producing cord-controlled blinds due to child safety concerns. If you have young children, then motorized products seem to be a perfect option for your windows.
4. I understand there are several types of motorized shades, what kind should I consider for my home or business?
Two main types of shades are battery operated and hard wired. Battery operated products should be used only if there is no accessible power source close to the window. Most of these products use 12V or 24V DC motors and often have lower lifting capacity or slower operating speeds. Their battery life is also a concern, but there are solutions available like satellite battery packs or DC power transformers that make things easier for the consumer. Some battery operated systems can be connected to home automation systems or operated via mobile devices. Many new homes are now hard-wired for 120V AC motors with 120Volt access at each window which makes it easier to connect the window coverings to the home automation systems.
5. Why would I operate my blinds or shades with my mobile device?
Security is the most popular reason people operate their shades with these devices as they can be operated anywhere and at any time giving the illusion that the property is occupied. The shades can also be programmed to work on a timer for optimum sun control at all times.
6. Motorized blinds sound perfect, what else should I consider before I purchase these products?
Try to keep things simple if you can. Don't invest the money if you can't invest the time to program and maintain the system. If you have the blinds professionally installed, the installer will do the initial programming for you. You will have to program the system to fit your particular needs or hire someone to make any changes or updates that may be required down the road. Bear in mind that system failures due to power outages or equipment changes (new cell phone or device) are a possibility. Sometimes battery operated systems with a simple wireless wall mounted remote control switch is all that is required for your window covering needs.
7. Can I install these products myself or should I have the blinds professionally installed?
Most blinds and shades can be installed by the consumer as instructions, and the hardware is included in the packaging. However, some warranties may be voided if not installed by a professional installer. Also, to be on the safer side, hiring a professional installer is recommended for all motorized blinds and shades.
If you have any more questions about custom draperies and window coverings, get in touch with the experts at KNS Window Fashions. As the best window treatment specialists in Leduc and Edmonton AB, we have built a solid reputation by offering local clients quality products and services at prices that suit various budgets. We help you make the right window covering choices for your home or office space for maximum benefit. To learn more about how we can help you, please click here or contact us by clicking here.