Five Tips to Help You Pick New Window Treatments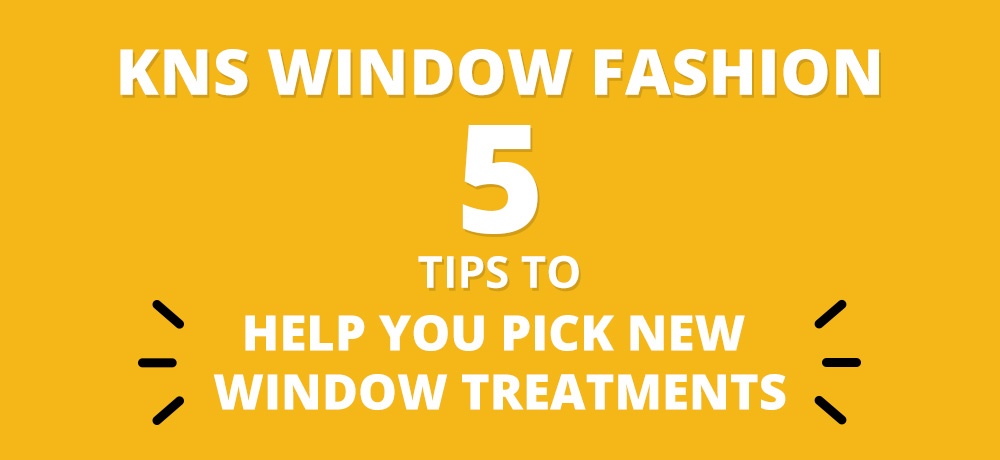 While window treatments are excellent tools for regulating the temperature and natural lighting in your home and office, they also offer aesthetic benefits. With the broad range of styles, colors, and materials available in different window treatments, you can easily add subtle notes of elegance to your home or completely elevate your interior design.
However, given the variety of options available today, it can become challenging to find the ideal treatment for your needs. To help you navigate through your options with ease and shortlist the best treatments for your home or office, the experts at KNS Window Fashions have listed five tips to help you pick new window treatments.
Tip #1: Determine your wants and needs
Your wants and needs could be related to light control, privacy, heat management, or perhaps something completely new. These are all aspects that you should consider before purchasing window treatments to ensure you choose the ideal ones.
Tip #2: Maintain a budget
Determine a budget that you would like to work within. This will help you stay grounded as you continue your research for the perfect window covers. But, when preparing a budget, make sure to set a realistic one as you may find that spending a bit more for good quality products is worthwhile in the long run.
Tip #3: Visit your local window covering specialist
These professionals will advise you on the best products that will meet your specific requirements. But, when looking for window treatment professionals, avoid the big box stores as you may have difficulty finding adequate information to make an informed purchase. Also, before you go to a store, it is a good idea to bring some rough measurements of your windows with you so that the professionals can give you an average price and an appropriate list of options.
Tip #4: Check out supplier services
While checking the price of window shutters is essential, avoid making a purchase based on price alone. Before you choose a window treatment product, you will need to determine which brand or store will provide you with the best service, warranty, fabrics, and colors. Also, check if they offer a shop at home service (or online stores) to add to your convenience. Similarly, verify if they offer installation services, as all of these elements are essential to obtain the perfect window treatments.
Tip #5: Get your windows measured
Now that you have decided on the product, price, and vendor, it is time to have your windows properly measured and for the covers to be installed accurately. Please schedule an appointment with your vendor so they can come to your home or office to measure your windows and have your selected shutters and covers installed without delays.
For more tips on how to pick new window treatments, reach out to KNS Window Fashions. We are window treatment specialists in Leduc, Edmonton AB, and are known for our first-class window treatment service. Whether you just bought a new home, recently renovated, or you want to update your interior design, we have a variety of window covers in different styles, colors, and measurements to fit your space and budget perfectly.
To learn all about our window treatment solutions, please click here or get in touch with us by clicking here.