Customer Spotlight: Maxine Hodgins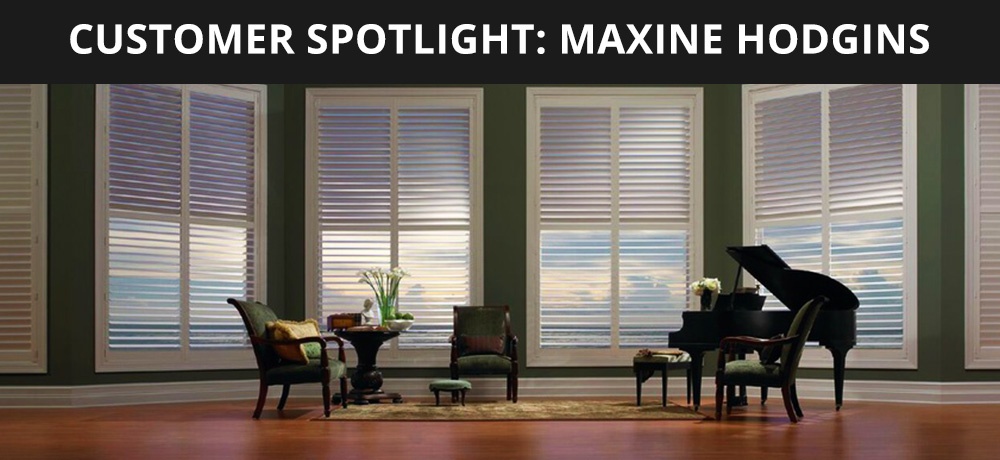 At KNS Window Fashions, we pride ourselves on providing high-quality custom window treatments and coverings at affordable prices, and over the past three decades, our success has been driven by happy clients, who have given us referrals and written positive reviews about our services. While quality is something that runs through our veins at KNS Window Fashions, so does gratitude.
Through this post, we want to highlight a client who has assisted in building our successful reputation and portfolio by helping us with multiple referrals.
Over the past ten years, Maxine Hodgins has been more than just another client. She has been an invaluable asset to KNS Window Fashions!
We fondly remember providing Maxine with custom window treatments for her homes in Edmonton and Kamloops. We installed motorized window shadings and a viewing screen for her theater room at her Edmonton home. In the same home, we also installed window coverings for her basement. And in her Kamloops home, we installed complete window coverings.
What we appreciate about Maxine is that she is willing to listen to our suggestions and advice and also lets us showcase the work we have done for her. We are proud of the fact that she has remained a loyal client in the past decade.
Customers like Maxine prove that reaching out to a small business owner has its benefits as they are delighted with the end product. It also gives us immense satisfaction to state that we did an excellent job at a very reasonable and competitive price. Our focus is on ensuring that our customers are happy with the window treatments they received.
Maxine is one such satisfied customer who has helped our business grow based on "word of mouth" and showing people the window treatments at her home. She has helped us attract more customers, and in doing so, she has assisted us in growing the business.
When we asked Maxine about why she loves working with us, her face lit up as she said: "Edythe is always willing to share her knowledge even if I am not making a purchase. Randall makes sure that my purchases are installed to my satisfaction."
Maxine and our other clients aren't wrong!
As a small business, at KNS Window Fashions, we prioritize customer service and high-quality work at affordable prices. For over three decades, we have been providing custom window coverings, including blinds, shades and shutters, curtains and draperies, bedspreads, and much more to clients in Leduc, Edmonton AB. So, the next time you're looking for window treatment specialists in Leduc, Edmonton AB, get in touch with us by clicking here or visit our website. To read what our other clients are saying about us, please click here.