The Truth About Blind And Shade Warranties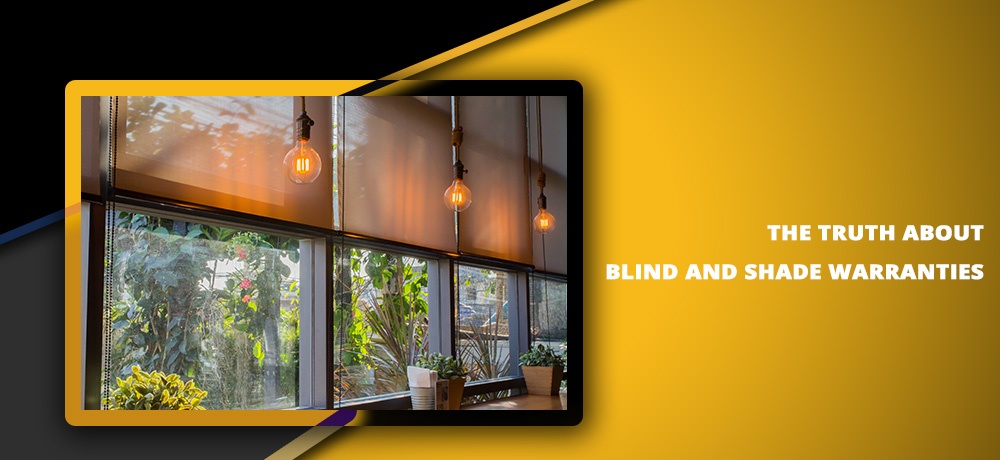 Window blinds and shades are some of the most popular window treatments products having practical advantages during the summer and the winter. However, while selecting these window products, you need to consider brand value, durability, features, looks, ease of operability, and affordability. You want to get the best value for your money, and hence you have to pick blinds or shades that fulfill your expectations. While this is great and shows your level of awareness, there is one factor where you could falter. And that with warranty.
Warranties protect you from poor workmanship and materials. Many companies offer what is called a "Limited lifetime warranty." This type of warranty usually pertains to the original purchaser of the product against material defects and poor workmanship for the lifetime of the product (which is usually five to seven years). This warranty does not cover strings or lift cords. Also, the warranty on motorized products is usually only five years and one year on commercial installations.
KNS Window Fashion has explained below the truth about window blind and shade warranties. Let us look at them in greater detail.
The facts!
1. Lifetime means the lifespan of the product, not your lifetime
Lifetime usually means the expected life of a product. This warranty will cover any manufacturing defect for varying durations of time. If you need further clarification on exactly how long the product will last, ask the manufacturer of the business offering the warranty what the life of the product is as mentioned.
2. Warranty does not cover strings and lift cords
Strings and lift cords are not covered, and as a customer, you need to be aware of this! These delicate parts of the window shade are prone to breakage over time, and there will be a cost to repair this. Yet another reason why you should handle them with care when opening and closing your shades.
3. Shipping or labor costs incurred by taking product down isn't covered by warranty
Warranties usually require the purchaser to remove the product and return the product to the manufacturer or vendor for repair. The warranty does not cover the cost for removal, freight, and re-installation of the product.
For more details about window blinds and shade and other window treatments, reach out to KNS Window Fashion. We are window treatment specialists in Leduc, Edmonton, AB, providing custom window coverings and draperies to clients in Leduc, Edmonton, and the surrounding area, and central Alberta. We have access to major brands for supreme coverings that meet your needs on point. Moreover, with over thirty-five years of experience, we know the different ways to find styles and designs that fit unique spaces and specific budgets perfectly.
To learn more about our services, please click here. You can also get in touch with us for more details by clicking here.