How This New Window Covering Restriction Could Affect You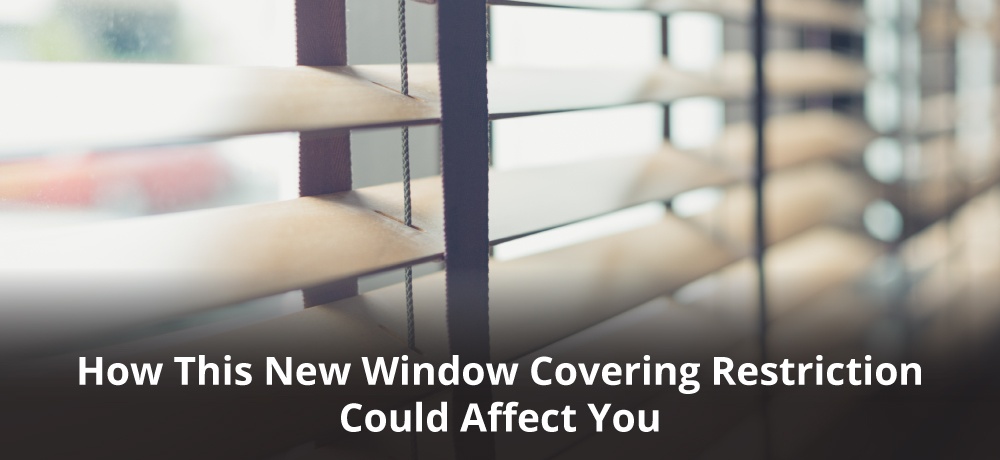 Window coverings are a lovely addition to your windows as they provide privacy, increase functionality, and enhance the aesthetic of the room. With the help of blinds and shades, you can control the brightness of a room and even its temperature. However, the cords of these window treatments can be hazardous in nature, especially to young children, infants, and even pets who are likely to get entangled in them.
The cords can lead to strangulation, unconsciousness (which may impact brain development), and in some cases even death. To protect children, a new regulation has come into effect restricting the length of the cords and loops of window coverings.
While this legislation is intended to reduce infant and child death or injury by strangulation, it has impacted consumers in different ways.
For starters, blinds and shades will cost much more as consumers will have to pay a higher price for alternative treatments with motorization or cordless controls. And, if you still plan to go for the traditional blinds and shutters with cords, you need to note that the cords will be considerably shorter, making them unsuitable for homes with high windows.
However, if you choose to go cordless, you benefit from numerous advantages. Besides taking care of child safety, cordless treatments make it easier for you to operate your windows, through remote control. In case you have elderly or handicapped loved ones at home, automated window shutters and blinds are a wonderful solution. Plus, elimination of cords improves the aesthetics of your windows, ensuring they are more streamlined and modern.
If you are looking to test the benefits of cordless window treatments, reach out the experts at KNS Window Fashions. As window treatment specialists in Leduc, Edmonton AB, we have over thirty years of experience in this industry. We offer you styles, colors, and designs that fit your space and budget perfectly.
If you have any questions about window coverings, please contact us by clicking here. To learn more about the other products and services we have to offer, please click here.